---
Strange that none of these football teams can turn a profit. Clearly the staff i.e
pakistan election 2018 polls
the players and managers are paid too much.
Last edited by
Arynews
on Mon May 28, 2018 10:50 am, edited 1 time in total.
---
Promising manager
Posts: 18133
Joined: Tue Apr 10, 2007 9:54 am
Location: Location: Location
Contact:
Is that a faint whiff of Shrewsbury sour grapes?
---
It's also true at both clubs of course. Footballers are universally a bunch of overpaid losers.
---
Promising youngster
Posts: 332
Joined: Sun Dec 17, 2017 11:58 am
Contact:
Did Burnley not post a profit of over £20M last season? Mainly from a couple of judicious transfers, nevertheless they succesfully replaced the likes oi Keane with very little money. If ever a club was to be used as an example of how a small town club should be run, Burnley would be it. (Never thought in my wildest dreams I'd be saying this"!)
In regard to Venkies yes, they destroyed Rovers,but I've had no qualms with the way the club has been run in the last twelve months or so and I hope they don't sell.
Better the devil you know.................
---
The problem with holding clubs up as models is that they're often only a couple of mistakes away from ruin... Last year Southampton were lauded as the ideal and yet this season they've invested badly and not many would say they didn't deserve to go down.

Which brings us to the main problem... every club in the premier league (beyond the top half dozen) is wholly reliant on the TV money which is by degrees their largest source of income... no matter how well run a burnley or swansea may appear from the outset... they're paying premier league wages and fees with premier league TV money... remove the TV money and the club will not be able to make ends meet and they wil be forced to either sell all their assets (players) or borrow heavily to support a swift return... essentially, the rovers model of the last few years will become the norm.

Fair play to burnley - they're doing well... but it isn't difficult to imagine an alternative scenario where Keane / Heaton could have proved difficult to replace and they spent double the 20 million profit in January trying to shore up a defence at the wrong end of the table.
---
Interesting article on BBC Sport about money and the gap between various divisions
https://www.bbc.co.uk/sport/football/44981103
Also, this: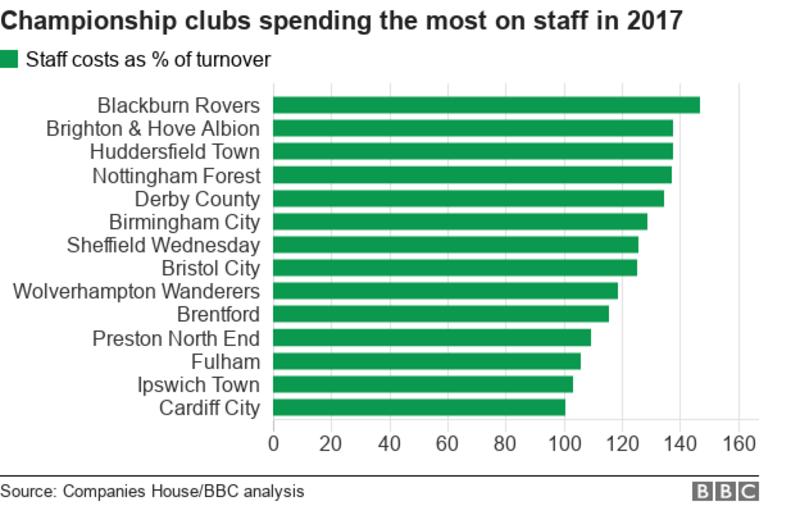 ---
The club has always said that they had the highest wage bill in the division because they had repeatedly backed the managers with the owners picking up the bill. Nobody likes to hear it for some reason.
---