Don't normally quote
The Sun
out of sympathy for my Liverpool forum pals, but for once this is worth it -
https://www.thesun.co.uk/sport/football ... motion-bid
Rafael van der Vaart's ex-wife performing dressing room 'striptease' to boost Hannover promotion bid
A revealing cardboard cutout of Dutch model Sylvie Meis is providing inspiration back to the Bundesliga
RAFAEL VAN DER VAART'S ex-wife is helping German club Hannover rise to the occasion … by performing a "striptease" in their dressing-room.
Dutch model Sylvie Meis was married to former Spurs midfielder Van der Vaart for eight years before they split in 2013.
Sylvie is now a major German TV personality. Second division high-flyers Hannover have placed a lifesize cardboard cutout of the 38-year-old wearing skimpy lingerie in their dressing-room.
The effigy has been covered in layers of clothing, and the players have been allowed to peel off one garment for every point they secure.
The plan has stiffened their resolve, with Andre Breitenreiter's side going five games unbeaten to top the table.
According to Bild, Sylvie said:
"If I am still seen as a lucky omen in the world of football then I must be doing something right. If Hannover win promotion I will appear in their dressing-room in person."
The duo were married for eight years before they split in 2013
Coach Breitenreiter added:
"It is a bit of fun, although we don't want to make too much of a big deal out of it. We have to go up first, then Sylvie can visit us."
Ex-Holland international Van der Vaart, 34, ended a two-season spell at White Hart Lane in 2012. He now plays for Danish club Midtjylland.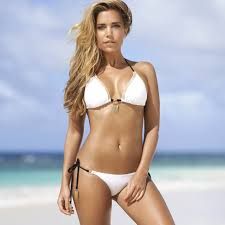 Anyone you'd like to see in the Rovers dressing room?